History
Neal's CNC is owned by Rachel McConnell and Gerard Dumuk, who bought the business from the original Neal when he retired in 2015. Since then, the business has grown from 2 to 5 employees, added additional cutting machines, and doubled its footprint. We have expanded our offerings while retaining the dedication to customer satisfaction and the extraordinary attention to detail that epitomize all of Neal Wood's work.
Equipment
CNC Router
We have a KOMO Innova 510 3-axis router with a powerful 12 HP spindle motor. It can speed through 3/4" plywood at up to 450 inches per minute.
The bed is 10' long and 5' wide. Raw materials wider than 5' won't fit on the machine. Material longer than 10', such as plank lumber, will fit, but we can't cut any parts longer than 10' from them. Multiple smaller parts are fine.
Our Z axis goes up to 6" from the bed of the table, giving a 3" limit on through cuts (the bit has to be 3" long, and it has to be able to travel entirely above the material). We can sometimes stretch this a little, get in touch to discuss your specifics and we'll see if we can figure out a way.
Laser Cutter
Our Barracuda laser has a powerful 130w laser tube and a large 4'x3' bed. The passthough allows us to cut and engrave longer pieces of material, and even 4'x8' sheets (although it can't cut 8' parts, sadly). It can cut through plywoods and acrylics up to 1/2" thick, and we're continuing to refine our techniques in order to increase the range even further. Unlike other cutting tools, laser-cut acrylic has a glossy, polished edge. Although some materials and thicknesses are not feasible to cut, many of them can still be engraved, such as anodized aluminum and stone.
There are also many flexible materials that are better suited for the laser: felt, fabrics, leather, rubber, and many plastics. However, not everything is safe to laser – check out this PDF if you're unsure about your material, or inquire with us.
Waterjet
Our local waterjet partner has a Flow waterjet with a huge 8'x13' bed, 2 rotational axes, and the ability to cut up to 6" thick material. Materials ideal for waterjet cutting include all kinds of steels, aluminum, brass, copper, titanium, Hastelloy, Inconel, carbon fiber, plastic, (untempered) glass, and stone as well as various softer materials like foams, silicone, rubber, or neoprene. Materials that can't get dirty, such as felts and some foams, can be kept squeaky clean during cutting for an additional charge.
Personnel
Gerard Dumuk
Gerard Dumuk hails from a family of machinists, engineers, and builders. His grandfather was a machinist as were all five of his uncles. He has always been familiar with tools and tinkering. His hobby is classic cars, and he currently has 13 vehicles in various states of repair. He has been a carpenter, a chimney sweep, a sushi chef and restaurateur, a roofer, and many other things in his varied career. He may be most proud of his time with CalFire, where he served for over 10 years. His uncle Neal taught him CNC machining on his days off from the fire station. When he retired from CalFire, he spent a lot more time here and finally un-retired to buy the shop from Neal, along with Rachel, in 2015.
A few years back while driving, he suddenly had the idea for a new kind of woodworking joint, which could be assembled and disassembled using minimal tools. After developing the idea further, he applied and was granted patent #16101523 in the USA and #EP3837447A1 in Europe.
Rachel McConnell
Rachel McConnell started her career in clothing manufacturing, following her lifelong love of making things. She later moved to computer programming, where she could make virtual things, and ran a business doing custom programming. Later, she became the lead developer at Instructables.com and was there for some years. During this time she learned a lot about computer aided design and manufacturing. When Instructables was bought by Autodesk she took full advantage of Autodesk's internal training center to become proficient with many kinds of CNC machinery, including lasers, routers, 3d printers, and waterjets. After meeting Gerard and Neal in the early 2010s, she delved into CNC programming in much more depth and is currently the primary programmer of the machines at Neal's.
In her spare time she makes oddities of various kinds. Check out her personal work at drshiny.com and her Youtube channel.
Our Founder
Neal Wood has over half a century of trade experience in the Bay Area. There isn't a square mile in San Francisco that doesn't contain some of Neal's craftsmanship. He has had a hand in the building of BART, made and installed signage throughout much of San Francisco - including the iconic Anchor Brewing Company sign in the Potrero District as well as the UCSF clock on Parnassus. He's crafted and installed exhibits in many of the museums in San Francisco including the California Academy of Sciences, the De Young, and the Asian Art Museum. There are too many others to list here, but you can imagine the breadth of work when someone's daily existence for over fifty years consists of building aesthetically pleasing signage, welcoming building lobby environments, museum exhibits, trade show booths, furniture, cabinets, and retail displays. Neal retired in 2015, bought a boat, and is currently spending his time sailing around the Sea of Cortez.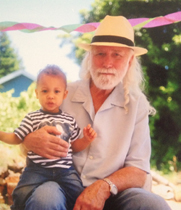 ---
Contact Us
Location
Our office
Neal's CNC
1414 & 1424 W. Winton Avenue
Hayward, CA 94545
510-783-3156
Subscribe to our mailing list